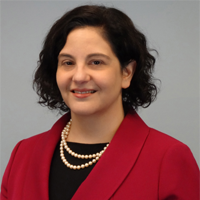 Chairman Papadimitriu was appointed by Governor Bruce Rauner in January 2017. She brings government and private sector experience in highly regulated industries to the Board, focusing on state and federal regulatory policies with an emphasis on deregulated energy markets and the convergence of energy and the environment. Her wide-ranging private sector experience includes: providing strategic guidance and execution to data analytics firms in the clean energy sector; developing corporate regulatory and legislative strategies; and leading business development and corporate strategy.
She also has held positions with the Illinois Commerce Commission, the Illinois Pollution Control Board, and other Illinois state agencies.
Katie has an A.B. in Political Science from the University of Chicago, where she graduated with honors, and an M.S. from the Illinois Institute of Technology.