×
Anyone, 6 months of age and older, is eligible to receive the COVID-19 vaccine. Find your nearest vaccination location at vaccines.gov
×
Due to the Covid-19 pandemic, there is limited access to the Board's offices. All filers should use electronic filing by following the "Clerk's Office And COOL" pull down screen below or the link below.
Please direct any questions to the Clerk's Office at 312-814-3620. Clerk's Office And COOL
×
We Moved! As of June 1, 2022, the Board's Chicago office address is 60 E. Van Buren St., Ste. 630, Chicago, IL 60605 Click this link for current information on meeting locations and access: Title 2 Administrative Rules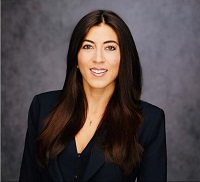 Board Member Palivos was appointed to the Board by Governor JB Pritzker in April 2019. Anastasia Palivos was Commissioner of the Illinois Commerce Commission from Jan. 2018 to Feb. 2019. An Illinois native, Palivos was the first Greek-American woman appointed to the Commission and, at 28, the youngest-ever appointed commissioner. At the Commission, Palivos hosted several policy sessions investigating various energy issues including: electric vehicle deployment, transportation electrification, energy storage, wind energy, smart apps for utility operations, and gas pipeline infrastructure and safety. Prior to her appointment, Palivos was a legal and policy advisor to the chairman of the Illinois Commerce Commission. She previously worked as a business development strategy analyst for a Chicago-based health intelligence firm. She received her Juris Doctor and Bachelor of Arts in political science from DePaul University. Palivos is a founding board member of the Hippocratic Cancer Research Foundation, which provides philanthropic support for cancer research teams at Robert H. Lurie Comprehensive Cancer Center of Northwestern University.